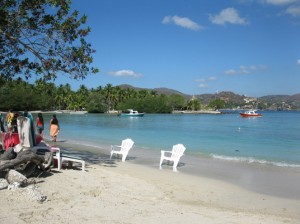 Feb 14th, St. Valentines day was the start of the most recent part of my journey. That evening I went to a local bar to hang out and see what kind of local festivities were going on. It turned out that it was just a slightly busier night then usual. That is all. But then a weird set of coincidences started to happen.
I met a person from Canada. Not terribly unusual, I admit, and we got to talking. The usuals "oh what part?" and "oh really, I used to live there." Then I mentioned that I used to live on the other side of the country. Well it turns out that this guy not only lived on the same street as me in New Westminster, BC but also on the same street I grew up on in Ottawa. How strange. Further he turned out to be an excellent web programmer who owned property here in Zihuatanejo. My rental was just about up at my current apartment and With times being tough down here, his geodesic domes were being left un-rented.
Back to the night at hand. I met a group of really fun and curious group of Mexicans at the bar and was practically pushed into talking with a shy but cute girl from Morelia, Mich. We hit it off and started going out. Food, parties, shows, and just hanging out it has been an interesting couple of weeks.
I moved out of my place in La Noria and moved into my Canadian friends place near La Ropa Beach. We decided to try to push each other to program online to make money. It worked and we are both doing fairly well right now freelancing and competing with Indians and script kiddies for online work. The plan has always been to take it slow, earn dollars and spend in pesos. Simple enough, it took longer then expected to get here, and it still has some ruff spots, but in general I hope this works. Time has passed and times have changed. I have settled into a pattern here working most weekdays, hanging out with friends in the evenings and weekends and generally enjoying myself.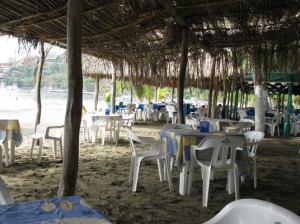 But with a group of Mexican friends I can say I am learning more intricate things about the culture and people here. But then how to describe such things without coming off as a person who is judging, misinformed, or generally naïve? There is certainly nothing like black and white in any culture and this is no exception. Most of the people I have met have been honest, good people with good intentions and interesting things to say. Others seem to be just out for a buck or barking up the wrong tree, but this is just par for course in what merely feels like a magnified reality.
Tags: Beaches, Friends, Mexico, Travel, Working, Zihuatanejo