My first two weeks in Zihuatanejo have been a blast. After working through the Olympics, seven days a week and taking the odd night shift at the bar it's nice to kick back and relax. It's exciting knowing that the first apartment I've ever rented is in Mexico. The kitchen is outside on the patio, along with a hammock down the center of our dining room. We wake up to the sounds of the parrot downstairs cackling then screaming bloody murder.
Kyle has introduced me to a bunch of locals who I get along really well with. They have taken us out to many popular events and local bars. Thus far, we've been to an outdoor concert on the beach, a fishing tournament in town where they are catching Marlin and the anniversary of a bar opening. Also, I have seen many beaches since I've been here, my favorite was Barra De Potosi.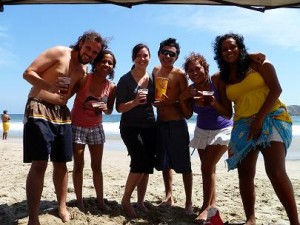 I have been reluctant to go out on my own for fear of getting lost. Though, the other day Kyle gave me a grocery shopping list and booted me out the door. To my surprise it wasn't as scary as I thought and I did not get lost once! I came home pleased to tell Kyle that I made it back in one piece and did not break down crying at any point in my travels.
On Sundays almost the entire town shuts down, so Kyle and I decided to go adventure. We found a huge staircase that looked like an exciting challenge for us to climb. Also, after the lunch we had we could afford to do some cardio! Once we climbed to the top of the stairs we found a cute little village. The village was very poor; their homes had dirt floors, sheets for doors and a bush outside as the washroom. Kyle asked one of the men living in the village to show us where the best view would be. We trekked through the bush and up the hill to a clearing where you could see the bay of Zihuatanejo, La Noria, Las Gatas and much more. It was absolutely stunning. Afterwards we insisted that we buy our new found friend Jose a beer, we would have never found that lookout if it weren't for him.